Students Build a MMS Spacecraft Model Using LEGOs
09.11.12
As a child you probably had a LEGO® set. Spilling the contents carefully you'd spend hours constructing something that only made sense to you. LEGO® kits today are much more sophisticated, often containing hundreds if not thousands of pieces.
With a little help from LEGO® designers, students in West Virginia built a one-foot diameter model of a future NASA mission called the Magnetospheric Multiscale (MMS) spacecraft. Scheduled to launch in 2014, MMS will study a little known phenomena called magnetic reconnection. Using illustrations of the spacecraft provided by NASA engineers the student team carefully sifted through more than 2,000 LEGO® pieces to assemble the spacecraft model. The team also designed and built a smaller 300-piece MMS model.
Dr. Scime, a plasma physicist with significant experience analyzing NASA magnetospheric satellite data, is the lead for the Morgantown West Virginia Area RoboticS (MARS) organization. He presented the LEGO® spacecraft models to the MMS team on Sept. 11, 2012, during a Science Working Group Meeting at NASA's Goddard Space Flight Center in Greenbelt, Md.
"West Virginia is an intensely rural state and only about 16 percent of students who enter WV high schools complete any type of post-secondary education," Scime told the MMS team. "MARS is committed to changing this statistic and projects like MMS LEGO® engage our students in real science while extending the impact of our program. MARS' goal is to increase the proportion of first-generation West Virginia college freshmen pursuing Science, Technology, Engineering, and Math (STEM) degrees."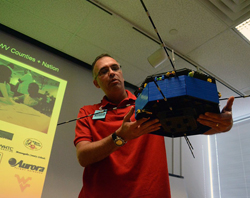 In order to develop a series of Space Math activities based on MMS science Dr. Majorie Darrah, associate professor of mathematics at West Virginia University (WVU), Morgantown, W.Va. is working with Space Math project lead Dr. Sten Odenwald at Goddard to develop authentic mathematic problems that MMS scientists and engineers face.
According to MMS education and public outreach specialist Troy Cline at Goddard, "MARS is non-profit organization committed to advancing STEM education in Appalachia by mentoring fifth grade through undergraduate students in FIRST (For Inspiration and Recognition of Science and Technology) robotics programs. Members of MARS who participate in FIRST and related projects such as this often graduate high school and enter college in a STEM discipline at three to four times the national rate."
The LEGO® instructions, educators' Guide and Space Math activities for the MMS model are being promoted on several NASA sites such as the MMS Website, Sun-Earth Day website, Space Math website, on NASA Edge programs and social networks and at NASA's Educator Resource Centers across the nation.
For more information about the MMS mission, go to:
For more information about assembling a MMS LEGO® model, go to:
http://mms.gsfc.nasa.gov/epo_mms_LEGO_model.html
Susan Hendrix
NASA's Goddard Space Flight Center