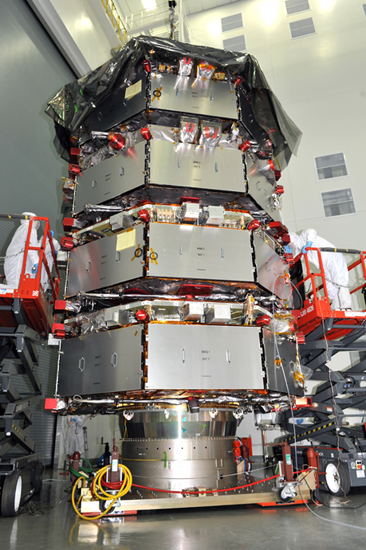 All four MMS spacecraft are stacked and ready for transport to the vibration chamber for environmental tests. Although they will be disassembled again later this month, this image is a sneak preview of what will be the final flight configuration of the MMS fleet.
[Click image for larger view]
---
The Magnetospheric Multiscale (MMS) mission is a Solar Terrestrial Probes mission comprising four identically instrumented spacecraft that will use Earth's magnetosphere as a laboratory to study the microphysics of three fundamental plasma processes: magnetic reconnection, energetic particle acceleration, and turbulence. These processes occur in all astrophysical plasma systems but can be studied in situ only in our solar system and most efficiently only in Earth's magnetosphere, where they control the dynamics of the geospace environment and play an important role in the processes known as "space weather."
Newsroom
Look at some photos of the MMS spacecraft getting stacked and ready for environmental tests. Although they will be disassembled again later, these images are a preview of what will be the final flight configuration of the MMS fleet.
>> View Photos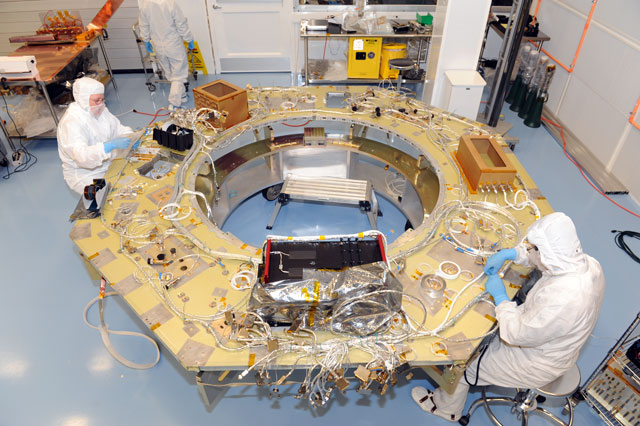 Earth's magnetosphere as a laboratory to study the microphysics of magnetic reconnection
The Magnetospheric Multiscale mission will use four identical spacecraft, variably spaced in Earth orbit, to make three-dimensional measurements of magnetospheric boundary regions and examine the process of magnetic reconnection. Credit: Southwest Research Institute
Mission Status

Agency Baseline Commitment: March 2015
Launch Readiness Date (LRD): March 2015
Phase C/D: Design & Development
Mission Highlights – As of October 23, 2014:
Mass properties/spin balance is complete on all Observatories.
Observatories # and #2 are stacked in a Mini-Stack and being bagged for shipment to the launch site Monday.
The Navigator is being removed from Observatory #3 tomorrow and will join the other three in the navigator lab for the impending rework.
The MMS Pre-Ship Review (PSR) will wrap up Friday morning with the caucus and out brief from the IRT.
Related Sites

Multimedia
MMS Orbit Animation
This animation shows the orbits of Magnetospheric Multiscale (MMS) mission, a Solar Terrestrial Probes mission comprising of four identically instrumented spacecraft that will study the Earth's magnetosphere.