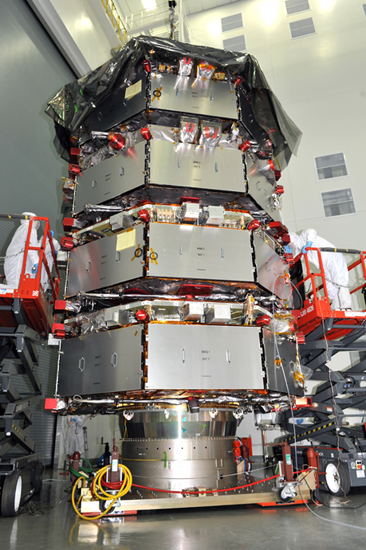 All four MMS spacecraft are stacked and ready for transport to the vibration chamber for environmental tests. Although they will be disassembled again later this month, this image is a sneak preview of what will be the final flight configuration of the MMS fleet.
[Click image for larger view]
---
The Magnetospheric Multiscale (MMS) mission is a Solar Terrestrial Probes mission comprising four identically instrumented spacecraft that will use Earth's magnetosphere as a laboratory to study the microphysics of three fundamental plasma processes: magnetic reconnection, energetic particle acceleration, and turbulence. These processes occur in all astrophysical plasma systems but can be studied in situ only in our solar system and most efficiently only in Earth's magnetosphere, where they control the dynamics of the geospace environment and play an important role in the processes known as "space weather."
Newsroom
Look at some photos of the MMS spacecraft getting stacked and ready for environmental tests. Although they will be disassembled again later, these images are a preview of what will be the final flight configuration of the MMS fleet.
>> View Photos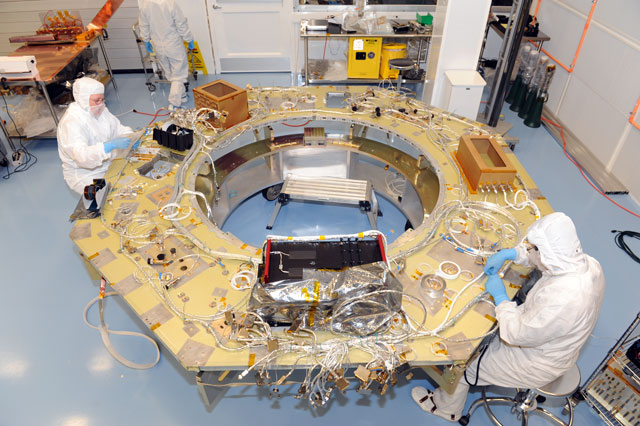 Earth's magnetosphere as a laboratory to study the microphysics of magnetic reconnection
The Magnetospheric Multiscale mission will use four identical spacecraft, variably spaced in Earth orbit, to make three-dimensional measurements of magnetospheric boundary regions and examine the process of magnetic reconnection. Credit: Southwest Research Institute
Mission Status

Agency Baseline Commitment: March 2015
Launch Readiness Date (LRD): March 2015
Phase C/D: Design & Development
Mission Highlights – As of October 16, 2014:
The investigation into the recent Observatory #4 Side A Navigator (weak signal GPS system) anomaly has revealed a failure in a RAM-3 RF amplifier microcircuit in the same circuit location as had been previously experienced. A weakness in the design that stresses the part in this particular circuit location has now been identified that was not understood previously. A rework plan for all four Navigators is being validated by testing on the ETU and evaluation boards. All four will be removed, reworked, and reintegrated at the launch site. No impact to shipping or launch date.
Mass properties/spin balance is complete on Observatories #1, #2 and #4 with #3 in progress this week.
Mission Readiness Test #17 (MRT17), a series of instrument operation and commissioning activity rehearsals, was completed this week.
Thermal Blanket closeouts and final metrology work continued this week on all Observatories.
Related Sites

Multimedia
MMS Orbit Animation
This animation shows the orbits of Magnetospheric Multiscale (MMS) mission, a Solar Terrestrial Probes mission comprising of four identically instrumented spacecraft that will study the Earth's magnetosphere.