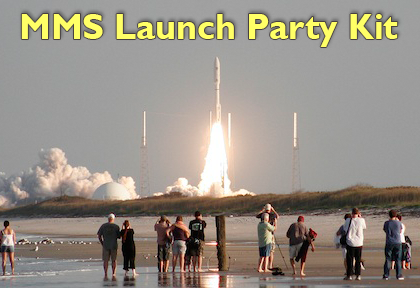 Capturing 3 dimensional views of magnetic fields around Earth explosively connecting and disconnecting is about to become a reality as the Magnetospheric Multiscale (MMS) mission prepares for launch. Plan your own launch party with these resources and watch live on NASA TV and NASA EDGE as 4 MMS spacecraft soar to their new home in space aboard an ATLAS V launch vehicle!
Spacecraft: Magnetospheric Multiscale (MMS)
Launch Vehicle: ATLAS V 421 Launch Vehicle
Launch Location: Cape Canaveral Air Force Station, Florida
Launch Pad: Eastern Test Range, LC-41 Launch Pad
Launch Date: No earlier than March 12, 2015
Launch Time: TBD
NASA EDGE Ustream Channel and NASA TV Education Channel (NTV-2)
On March 12, 2015, NASA EDGE will join forces with the MMS mission team to air a live webcast of the MMS launch from Cape Canaveral, Florida! The webcast will begin airing at 9:15pm EDT (1:15am Next Day UTC). Prior to the schedule liftoff at 10:44pm EDT, we will introduce you to a nice variety of experts including MMS scientists, engineers and educators. Then just minutes before launch you will hear from a member of the Launch Services Program, Mic Woltman, as he discusses the status of the Atlas V rocket and mission! Then COUNTDOWN!
Throughout the entire webcast we will switch to live views of the Atlas V rocket as it patiently waits to take 4 identical MMS observatories to their new home in space. So if you're unable to attend the launch, don't worry. Sit back, relax and let NASA EDGE turn your location into the best seat in the house!
Host an Event!
There are activities and decorations in the launch kit to make your party fun for all ages. Be creative with your party and invite your friends or people from your community. Watch the launch and launch events live, including talks from NASA scientists and engineers. You don't need to be at launch to have a great time. Everything you need to host a great party and join in the launch fun is here at your fingertips.
About MMS
The Magnetospheric Multiscale, or MMS, mission studies the mystery of how magnetic fields around Earth connect and disconnect, explosively releasing energy via a process known as magnetic reconnection. MMS consists of four identical spacecraft that work together to provide the first three-dimensional view of this fundamental process, which occurs throughout the universe.
The mission observes reconnection directly in Earth's protective magnetic space environment, the magnetosphere. By studying reconnection in this local, natural laboratory, MMS helps us understand reconnection elsewhere as well, such as in the atmosphere of the sun and other stars, in the vicinity of black holes and neutron stars, and at the boundary between our solar system's heliosphere and interstellar space.
Launch Kit Links
MMS Magnetic Space Café
Stay up to date with our online community by clicking, "MMS MAGNETIC SPACE CAFÈ". Enter your email address and simply reply to the confirmation email that you will receive.
Connect With Us
MMS Launch Postcard
Postcard Front [Click on image for larger view]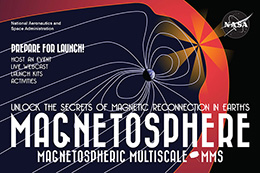 Postcard Back [Click on image for larger view]
+ Download Print Version | PDF | 1Page | 2MB
[* NOTE: PDF set up to print front and back on one side, turn over and print again. Two postcards per page.]
Other Resources